ROSELANI ICE CREAM
MAUI'S OWN SINCE 1932
In the 1930's, Manuel Nobriga decided to try his hand at making ice cream from scratch. His recipes were so well received in the Maui community that he continued to manufacture his ice cream using his time-tested recipes until he retired in 1971.
When his son Buddy took over as president of the company, Buddy wanted his dad's ice cream to be available for people to take home and enjoy. In the 1980's, with help from the community, the name "Roselani" was born and Roselani Premium Ice Cream was packaged in ½ gallon "bricks" to be sold in mom & pop grocery stores on Maui.
In the 1990's, Buddy appointed his daughter Cathy as Vice President of Roselani Ice Cream. Under Cathy's care, the company acquired a neighbor island distributor and grew significantly as it became available to customers in grocery stores across the state of Hawai'i.
In 2018, Cathy appointed her eldest nephew (and 4th generation family member) Buddy James as Roselani Ice Cream's Operations Manager.
Under Buddy James' leadership, we continue to work toward growing our retail and foodservice business while trying to remain true to the integrity of our products. It is important to us to make sure that the quality of great-grandfather Manuel's time honored and traditional recipes remain the same in an ever-changing world.
We are proud to say that our ice cream has been made right here in Wailuku, Maui for over 87 years.
We are Roselani Ice Cream – Maui's Own Since 1932.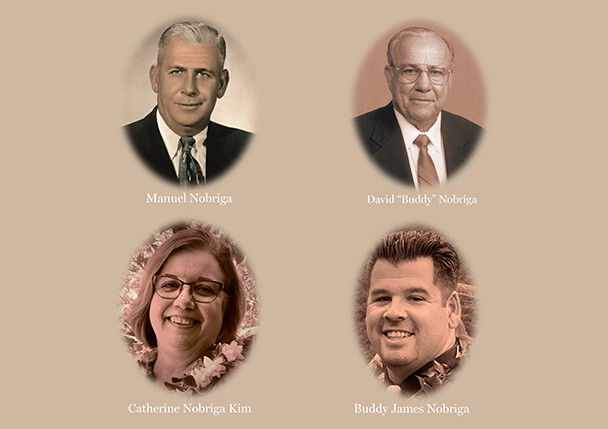 ROSELANI ICE CREAM
HISTORY
1884
Gibbens & Macauley found Maui Ice Works
1888
G.H. French takes over Maui Ice Works in Kahului at Pier 1
1893
Ralph A. Wadsworth purchases the company from French
1900
Maui Soda & Ice works is relocated to its present Wailuku site
1921
Maui Soda & Ice Works purchases Wailuku Soda Works
1922
Manuel Nobriga begins working at Maui Soda & Ice Works
1931
Maui Ice Cream, a division of Meadow Gold Dairy, leases space at Maui Soda & Ice Works
1932
Maui Soda & Ice Works buys Maui Ice Cream and begins making Dairymen's Ice Cream
1946
Nobriga family (closed corp.) buys Maui Soda & Ice Works company and property from Wadsworth Family
1972
Introduction of the Roselani Ice Cream brand
1977
Roselani Ice Cream sweetened with honey released
1984
All-natural ice cream in brick pints produced by Roselani Ice Cream
1989
Introduction of Roselani Tropics line of ice cream flavors
1996
Renovation of Roselani's production and freezer facility is completed
1999
First shipment of Roselani Ice Cream to Oahu
2005
Roselani Ice Cream's 64oz retail cartons available in all supermarket chains in Hawaii, including Foodland, Times, KTA, Safeway, and Tamura's Supermarkets
2013
56oz retail carton released to supermarket chains in Hawaii
2019
Redesigned retail packaging introduced back into Hawaii supermarkets